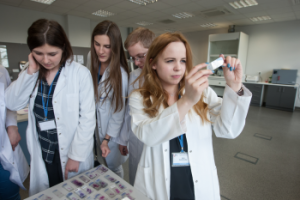 Level: Master Programme (MD – Doctor of Medicine)
Duration: 6 years (12 semesters)
Tuition fee: 6 250 EUR per semester
Description
The School of Medicine offers a 6-year MD (Doctor of Medicine) programme adapted to the EU standards, offers over 5700 hours of education in the scope of general medicine, in the form of preclinical and clinical courses. Graduates are awarded the MD degree and are provided with a medical diploma recognized within the European Union, U.S.A., Canada, and many other countries worldwide.
The programme is based on requirements which are obligatory for all Polish medical higher education institutions and is adequate to EU standards. Students are required to choose 9 optional courses which are divided into two groups:
Basic science and preclinical (choice between 3rd and 9th semester)
Clinical sciences (choice between 6th and 9th semester)
The programme comprises preclinical subjects: anatomy, biochemistry, biophysics, physiology with cytophysiology, histology with embryology and basics of cell biology, microbiology, pathophysiology, pharmacology, toxicology, and many others; as well as clinical subjects: internal medicine, pediatrics, surgery, gynecology and obstetrics, psychiatry, family medicine, emergency medicine, neurology, oncology, otolaryngology, ophthalmology, infectious diseases, and more. Practical clinical teaching during the 6th year includes courses in clinics or hospital wards within the fields of internal medicine, pediatrics, surgery, gynecology and obstetrics, psychiatry, emergency medicine, family medicine.
A summer internship should take place within healthcare facilities, and should include the improvement of professional skills in fields such as patient care, open therapeutics (family doctor), first-aid, internal medicine, intensive care, pediatrics, surgery, gynecology and obstetrics.
Admission requirements
In order to be considered for acceptance, applicants must be above 18 years old and demonstrate the results of the following subjects on the high school diploma:
one subject of choice: Biology (Higher or Standard Level) or Chemistry (Higher or Standard Level)
and
one subject of choice: Physics (minimum Standard Level) or Mathematics (minimum Standard Level)
An official high school final examination certificate or other certificate qualifying to apply for a university course must be certified with an affixed apostille- in the case of documents issued in the countries that are party to the Hague Convention of 5 October 1961.
Candidates will be chosen by an open competition on the basis of grades on the high school certificate (transcript of grades). A document confirming knowledge of the English language at B2 level CEFR (e.g. English knowledge certificate, grade on high school leaving certificate).
If you have any questions regarding the admission process, including those about your eligibility, please contact us: recruitment@mdkielce.edu.pl